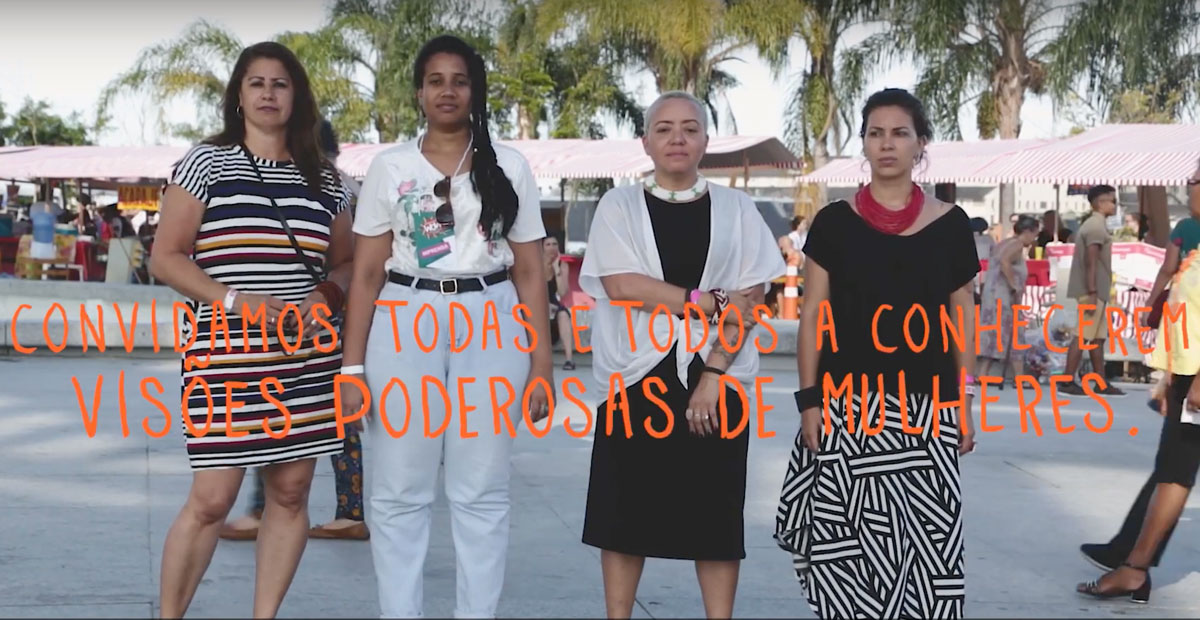 By Mohara Valle, Equimundo-Brasil
Equimundo-Brasil, Women of the World Festival, the U. S. General Consulate, The Womanity Foundation, and the Australian Embassy partnered to create a series of videos and an interactive station at the Museum of Tomorrow (Museu do Amanhã) in Rio de Janeiro, Brazil, on the theme of men's role in advancing gender equity.
What would a world free of violence be like? This challenging question can lead to many answers.
Sandra Vale of Equimundo-Brasil, comments: "For us at Equimundo, it will be a world with gender equity. A world in which being different is not a reason for living in inequality. And a world that understands that, because we have different realities, we need to provide different forms of opportunities and access to rights to live in equality."
Social transformation towards gender equity can be advanced through initiatives by individuals, movements, organizations, governments, foundations, and private institutions, among others, to envision and work for a better future, free from violence.
From November 16 to 18, 2018, the Women of the World (WoW) Festival provided a space to share experiences and reflections, best practices, and lessons learned from many of these initiatives. The WoW festival was hosted in Latin America for the first time – in Brazil, co-organized by Redes da Maré – bringing together women from diverse fields of work to create dialogue on issues faced by girls and women and explore possible causes and solutions.
The WoW Festival is an opportunity to learn from women around the world who challenge gender inequality in creative and innovative ways. Equimundo believes that men also need to take responsibility and be part of this process of social transformation, in partnership with women.
For this reason, Equimundo presents WoW Visions: The Role of Men in Gender Equity, a partnership initiative between Equimundo, the U.S. General Consulate, the Womanity Foundation, the Australian Embassy, and the Women of the World Festival that seeks to listen to and amplify the voices of women that participated in the Festival regarding how men can work as allies in promoting gender equity.
The initiative features two series of videos developed in collaboration with Agô Yá, a collective of female black professionals who come together to produce powerful audiovisual content to make visible the actions of other black women.
One of the video series, with collaboration and support from The Womanity Foundation and the Australian Embassy, features interviews with 10 Festival speakers, sharing their views on how men can advance gender equity, including around themes such as women's health, ethnic-racial relations, women in the labor market, safe cities for women, and more.
The other video series, with the collaboration and support of the U.S. General Consulate, features 16 short videos with testimonials from women participating in the WoW Festival, about the role of men as allies in their fields of work, covering various topics such as community articulation, domestic violence prevention, knowledge production, education, and more.
To bring additional insight to the Festival around the importance of men's involvement in gender equity, Equimundo-Brasil hosted an interactive station at the Museum of Tomorrow (Museu do Amanhã) in Rio de Janeiro called WoW Visions: Our Role for Gender Equity. The station featured a totem where event participants could take photos with inspirational messages to advance gender equity, which were posted to social media and printed as souvenirs.
The video series WoW Visions: The Role of Men for Gender Equity was launched during the 16 Days of Activism to End Gender-Based Violence on Equimundo and partners' social networks.
Visit the Equimundo-Brasil Facebook page or YouTube account to watch all the videos and hear more from women about how men can challenge violence and work in partnership to build a more equal future.
Watch the series launch video and the first interview (with Jude Kelly, founder of the Women of the World Festival) below. English and Portuguese subtitles are available in the YouTube settings by clicking on the gear icon in the lower right corner.