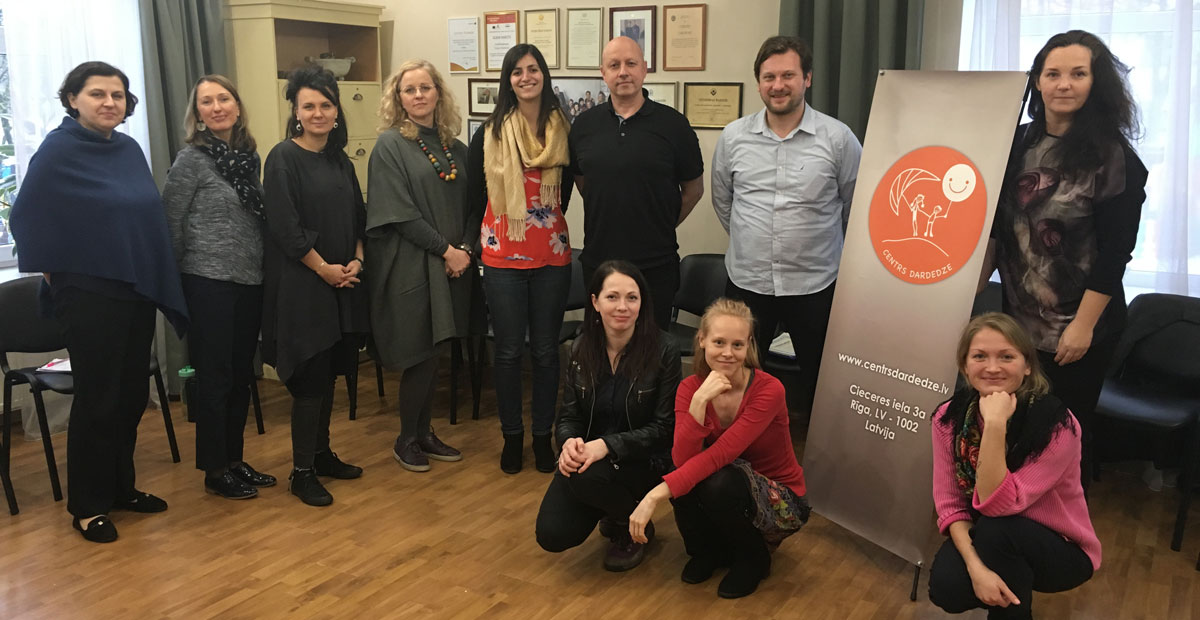 In January and February 2018, Equimundo conducted a series of trainings for partner organizations in Latvia and Bulgaria through the organization's partnership with the Oak Foundation.
Partners learned about gender-transformative programming – approaches that strive to examine, question, and change rigid gender norms and power inequalities as a means of reaching development objectives.
By first identifying critical gender norms and power inequalities within their own contexts, participants then gained knowledge and skills in program planning, design, monitoring, evaluation, communications, and advocacy to enhance their work engaging men and boys. Participants also learned to facilitate activities from Program P, which provides concrete strategies to engage men in active fatherhood from pregnancy through their children's early years, and Program H, which encourages critical reflection about rigid masculine norms among young men and boys.
Equimundo's Natko Gereš and Abby Fried led the four-day training in Riga, Latvia for staff from three partner organizations – Centre Dardedze, MARTA Centre, and Foundation Fathers – that work on engaging fathers in equitable caregiving and transforming gender norms among young men and boys.
Equimundo's Natko Gereš and Nina Ford led the five-day training in Sofia, Bulgaria for staff from ten partner organizations, including members of the MenCare Bulgaria campaign. Participants included staff from Animus Association Foundation; Applied Research and Communications Fund; Association Roditeli; Bulgarian Fund for Women; Bulgarian Gender Research Foundation; Gender Education, Research, and Technologies Foundation; National Network for Children; Social Activities and Practices Institute; and Tulip Foundation, as well as colleagues from the Oak Foundation.
In addition to learning and sharing knowledge about gender-transformative approaches, participants gained skills in crafting and delivering effective communications and advocacy messages with their national platform.
Equimundo has been supporting the Oak Foundation's partners in Latvia and Bulgaria to advance gender-transformative work to engage men and boys in violence prevention since early 2017. This support is informed by Equimundo's 20 years of experience designing and implementing gender-transformative programming in over 40 countries around the world. Equimundo plans to continue to provide technical assistance to partners in Latvia and Bulgaria with support from the Oak Foundation.