Results from the International Men and Gender Equality Survey (IMAGES) in the Central Region of Uganda, produced by Equimundo and the International Center for Research on Women (ICRW), launched on May 17 in Kampala.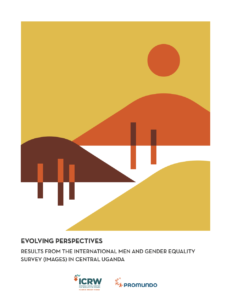 "All of us don't just become adults out of the blue. The way our own parents nurture us sometimes teaches us [how] to nurture our own children." – Key informant working in the nonprofit sector
With regionally representative data from for more than 2,000 respondents aged 15 to 49, the survey – completed in 2017 – represents one of the first efforts in the country to explore men's positions on gender equality and contributes to a growing evidence base on violence, gender, and health. 
The survey maps men's and women's attitudes and practices related to gender equality in daily life, including domestic violence, caregiving and fatherhood, health, gender norms, and economic stress. Along with a complementary qualitative study – conducted also by ICRW and Equimundo – this study contributes new insights into the intersection between violence against women and violence against children, and the barriers to and drivers for successful prevention and response efforts. 
The research reveals the following key findings:
There seems to be limited support for, and some backlash against, ideas around gender equality

. Over 50 percent of male respondents believe that men lose out when women gain more rights, and that when women work, it takes jobs away from men. Over 75 percent of men surveyed believe that domestic violence legislation is being used by women to dominate men. But it is not just men that hold these beliefs – many women (although generally fewer than men) also agree with and reinforce gender-inequitable views. 

Violence occurs at alarmingly high rates

.

Three in ten respondents report ever witnessing their mother experience physical violence, and one in four say that they themselves have experienced some form of physical violence at the hands of their caregivers when they were children. As adults, 52 percent of ever-partnered women report having experienced physical or sexual violence from an intimate partner, while around 40 percent of men (considerably fewer) admit to using one or both of these types of violence in their lifetime.

Violence against women and violence against children often co-exist. About one in three men report using both harsh physical discipline

and

physical or sexual intimate partner violence at some point in their lifetime. When men use violence against their female partners, it makes children more vulnerable to physical punishment as well: one in two female victims of partner violence has been violent toward her children.
"Adults think that they have the right to discipline these children, to hold them accountable…that is okay they have that role but how they are using that power, that is the story on them, to nurture and guide children to develop discipline and stuff like that. Instead they are using violence." – Key informant working in the nonprofit sector
Practices around child discipline are improving:

Respondents report using less harsh punishment with their own children than they received as children. Respondents report frequently using positive discipline techniques such as explaining to the child why the behavior was wrong, and complimenting and praising the child for good behavior.

Men's take up of care work is related to their experience as boys

. While both men and women report that women generally do the majority of routine domestic and childcare tasks, men who, as children, witnessed their male role model participating in domestic work (cooking, cleaning, washing clothes) also report doing these activities as adults much more often than men who did not. Men, however, might be overestimating their participation – while 43 percent of men report sharing domestic work, only 5 percent of women corroborated this statement.

Household decision-making power is, in reality, shared slightly more equally than perceived community expectations would indicate

. While about 90 percent of men and 80 percent of women feel that their community expects men to dominate household decisions, only 78 percent of men and 58 percent of women themselves believe that men actually

should

have the final say. And although men's dominance in household decisions is perceived to be the norm, reported practices are somewhat more equitable than both these attitudes and community perceptions suggest.  
Just as the findings reveal key areas of inequity, they also highlight opportunities to promote gender equality and make progress toward eliminating violence against women and children.
"Many organizations are not doing a human rights gender transformative programming. Their work only stops at awareness raising, and when people have a lot of knowledge but do not know how to transform it, it becomes problematic…" – Key informant working in the nonprofit sector
Key recommendations for governments and civil society include:
Push for a transformation of gender attitudes and norms.

Use approaches that encourage and normalize support for gender equality, highlighting the clear gap between community perceptions and individual attitudes and behaviors.

Build on, and boost the visibility of existing positive behaviors.

Men and women already report high levels of positive parenting behaviors, attitudes that counter violence, and support for men's participation in antenatal care.

Implement programs to improve parenting as well as couples' relationship quality, specifically targeting men.

Both men and women report inequitable relationships, low rates of men's involvement in domestic work and caregiving, and high levels of intimate partner violence, all of which are related to frequent quarreling and low levels of communication in the partnership.

Strengthen violence prevention and response laws and policies,

appropriately budget for and fund their implementation, monitor their enforcement, and shift public opinion by highlighting the benefits of these policies, as community buy-in can increase public support for such policies.

Encourage more research to better understand and respond to multiple intersecting forms of violence. While there has been much advancement in the past decade in research on violence against women and children, it is important to continue exploring gendered aspects of these dynamics so as to work toward achieving gender equality and violence-free lives. 
Access the full quantitative report, Evolving Perspectives: Results from the International Men and Gender Equality Survey (IMAGES) in Central Uganda, here.
Read the full qualitative report,
Intersections of Intimate Partner Violence and Violence against Children: Expert perspectives on improving service coordination in Kampala, Uganda,
here
.