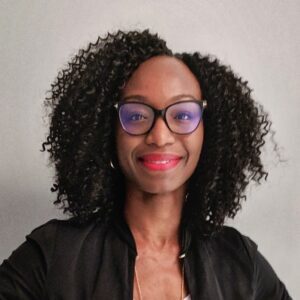 Tolu Lawrence, a tactical thinker and connector of leading nonprofits, social enterprises, and brands, has joined Equimundo as Vice President of Strategic Growth and Engagement. With a focus on intersectional gender equality and progressive masculinity, Tolu joined the team in Washington, DC to lead the expansion of partnership development across sectors to support strategic growth, sustainability, and impact.
"I am thrilled to join the dedicated team of experts and gender equality champions at Equimundo, and looking forward to supporting the organization's mission and work to advance healthy masculinity and gender equality. Developing key strategic partnerships that expand opportunity, deepen impact, and further sustainable growth will be essential as Equimundo continues to build on its powerful work around the world. I'm honored to be leading this work," Tolu said. 
Prior to joining the team at Equimundo, Tolu led strategic partnerships at The Representation Project, developing gender equality campaigns and initiatives with socially conscious brands, including Harry's, Lucasfilm, Spotify, Unilever, and more. She began her career at the Global Health Council, the United States Institute of Peace, and the Public International Law and Policy Group with a focus on human rights and humanitarian law.
"We're thrilled to welcome Tolu to the Equimundo team," says Gary Barker, President and CEO of Equimundo. "Tolu's years of leadership in building mission driven public-private partnerships, developing award-winning marketing campaigns, and facilitating forward-thinking dialogues on healthy masculinity, feminism, and gender equality, are a major asset to our growing global consortium."
Tolu serves as an advisor to Feminist.com, Good Men In Sport, and formerly served on Spotify's Culture Change Collective. She also sits on the boards of MotherCoders and PL+US. Tolu holds a JD degree from American University Washington College of Law and is a member of the California Bar.