Today, June 15, Equimundo launches the State of the World's Fathers 2021 report, exploring the persistent individual and structural challenges – and providing recommendations for addressing them – that contribute to the unequal distribution of care work.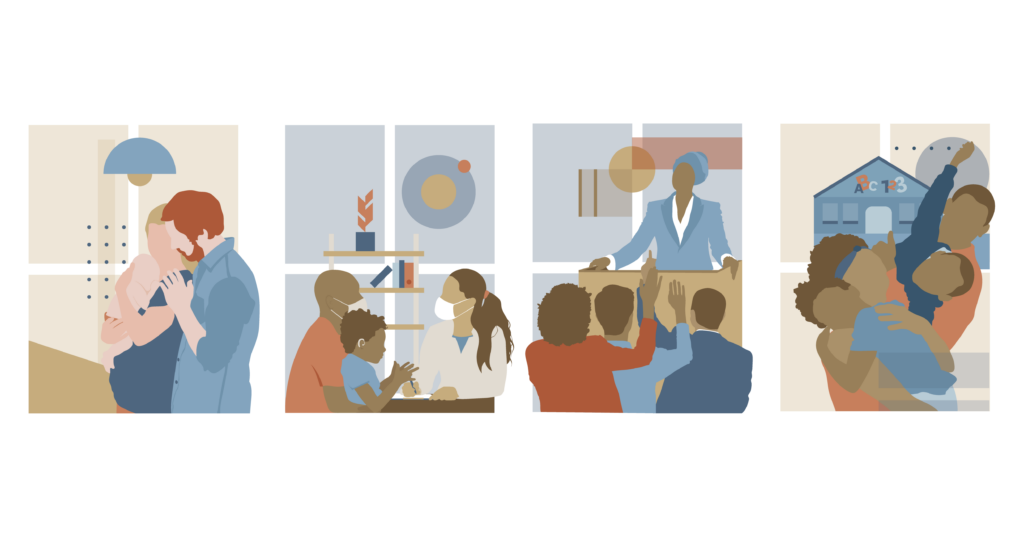 The fourth State of the World's Fathers report launches today as part of the MenEngage Ubuntu Symposium, which begins two weeks of events and online engagement  leading up to a co-hosted session on men's caregiving during the Gender Equality Forum happening on July 2. See more information on these initiatives below.
The State of the World's Fathers report is produced by Equimundo, co-coordinator of MenCare: A Global Fatherhood Campaign – which is active in over 55 countries. The report presents research on care work during COVID-19 and presents seven structural solutions to address the inequalities that exist in both paid and unpaid care work. State of the World's Fathers 2021 also includes data from the International Men and Gender Equality Survey (IMAGES), the International Labour Organization (ILO), UNICEF, and UN Women. It includes case studies from around the world, along with concrete recommendations to achieve equality in unpaid care.
Key Findings:
Men are participating more in unpaid care during the pandemic than perhaps anytime in recent decades. Surveys with women and men in 47 countries affirm that as a result of COVID-19 lockdowns, men have been carrying out more hands-on care work during the COVID-19 pandemic than any time in recent history, offering an opportunity to engage men in making that shift permanent –  and in ensuring sharing the care work is shared equally.   Despite men's uptick in participation, using ILO data from 23 countries (mostly higher-income ones with repeated, comparable time-use surveys on unpaid care), the research finds that the world is at least 92 years away from achieving equality in unpaid care work between men and women.
Many men though, even prior to the pandemic, have said they want to do more when it comes to raising their children. The "Helping Dads Care" data featured in the State of the World's Fathers 2019 report found that on average, across seven middle- and higher-income countries, 85 percent of men said they would "do whatever it takes to be very involved" in the early stages of caring for a newborn or adopted child.
Yet, according to this new analysis of global data, no country in the world has achieved equality in unpaid care between men and women, and no country in the world has a policy or target date to achieve it. Men's full participation in care work is part of a necessary and urgent revolution to center care in economies, societies, and lives and to advance gender equality. And, the research affirms that men's equitable participation in caregiving brings benefits to men themselves, to their partners, their children, and to societies. So, why is change so slow?
According to the report:
Because economies and economic policies value financial growth and profit rather than equality, human beings, and the care we all need. 
Because centuries of policies, workplace norms, media, and educational curricula have reinforced the norm that unpaid care work is mostly women's and girls' responsibility, whereas labor force participation or income generation is viewed as men's responsibility, even as women are increasingly part of the paid labor force.
Because these inequitable norms and power dynamics create feedback loops and inertia, which incentivize governments and families to prioritize men's incomes and paid work at the expense of others. 
Because women have been denied full participation in public life in many settings, the domain of care in the home is often seen as the only space in which many women can have or exert agency and autonomy (even as it may also be a site of violence, isolation, and exploitation of paid care workers). 
In response to these structural challenges, this year's State of the World's Fathers report puts forward seven actions to achieve a more caring, gender equitable, environmentally sustainable, liveable, and economically just world post-COVID-19; the recommendations are inspired by the vital work of feminists, women's rights organizations, and social justice organizations around the world.      
Action 1: Put in place national care policies and campaigns that recognize, reduce, and redistribute care work equally between men and women, and which address both individual and government actions.
Action 2: Provide equal, job-protected, fully paid parental leave for all parents as a national policy, in order to transform gendered patterns of care and support all parents in their roles as caregivers and in developing lifelong patterns of equality in caregiving.
Action 3: Design and expand social protection programs to redistribute care equally between women and men, while keeping a focus on the needs and rights of women and girls. 
Action 4: Transform health sector institutions to promote fathers' involvement from the prenatal period through birth and childhood and men's involvement as caregivers. 
Action 5: Promote an ethic of male care in schools, media, and other key institutions in which social norms are created and reinforced. 
Action 6: Change workplace conditions, culture, and policies to support workers' caregiving – and mandate those changes in national legislation. 
Action 7: Hold male political leaders accountable for their support of care policies, while advocating for women's equality in political leadership.  
Read the full report and download the press assets at StateoftheWorldsFathers.org
Join the conversation online using #WorldsFathers

Participate in the State of the World's Fathers 2021 Launch Moments:
Tuesday, June 15
9-11:00am EDT
Virtual Event: Launching the State of the World's Fathers 2021 Report: Structural Solutions to Achieve Equality in Care Work: 
This two-part launch event, organized by Equimundo, will reveal research, insights, and a new, 7-point plan for how to achieve equality in care work, launched in this year's State of the World's Fathers report; and it will provide an opportunity for private sector, government, & civil society leaders to discuss & debate practical, regional solutions to promote men's caregiving and advance gender equality. It will be part of the MenEngage Ubuntu Symposium. RSVP: Here
Friday, June 18
10:30-11:00am EDT 
Live Stream: The Towards Equality Media Programme and LIVE Event: 'Who cares for women?' 
(full LIVE runs 9:00-11:00am EDT)
Online event by Spark News in collaboration with The New York Times as part of this unique movement for gender equality, broadcasted on Facebook and YouTube. The aim is to gather journalists, international organizations, NGOs, and experts to shed light, in a constructive way, on today's most pressing gender equality challenges. This event is an opportunity to create an important sound box around gender equality, engage our international community of influencers, and reach a large audience via social media platforms. 
Wednesday, June 23 – Tuesday, 29
Online (Twitter/Facebook)
Social Media Campaign: 7 Days, 7 Actions
A social media event, going live on MenCare's Facebook and Twitter, sharing quotes and perspectives from government, private sector, and civil society voices on why State of the World's Fathers 7 Actions are critical for advancing men's caregiving and gender equality.
Friday, July 2
10:30-11:15am EDT / 4:30-5:15pm GMT + 2 on Stage 3
Virtual Event: Generation Equality Forum (Side Event)
More information forthcoming.