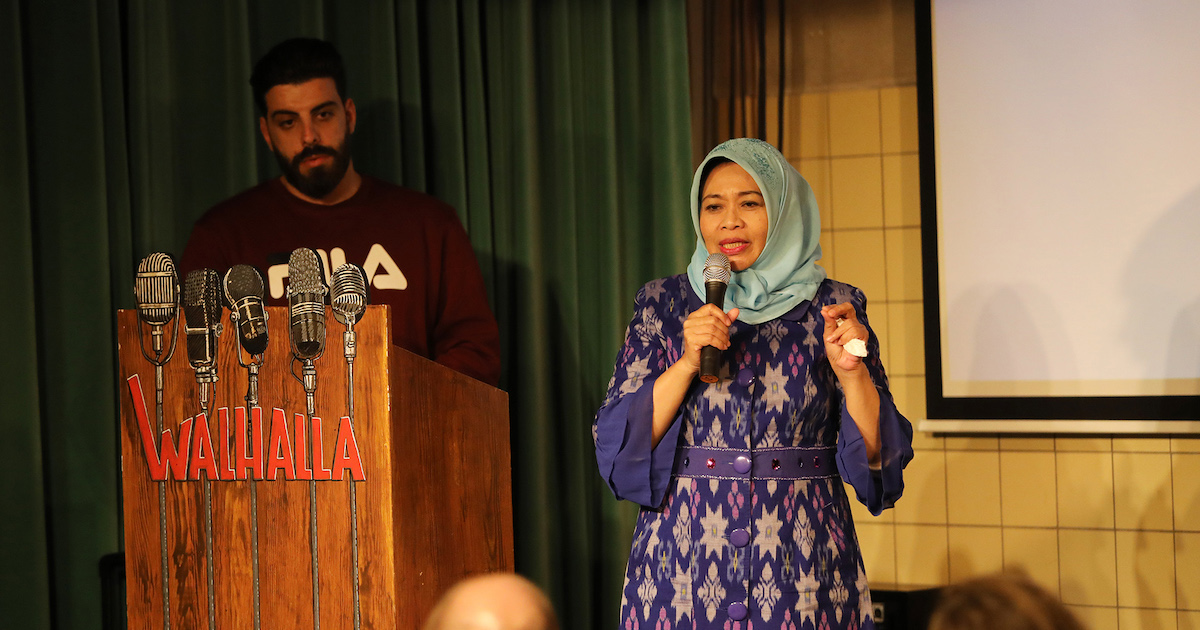 Adapted from a blog originally posted on Rutgers
Many countries around the world are experiencing a period of increasing conservatism, and in some cases, a turn away from universal human rights. This shift may include the reinforcing of patriarchal structures, limiting of access to rights, and the increasing marginalization of diverse sexual orientations and gender identities. Prevention+, a multi-country program uses a variety of strategies to advance healthy, respectful, and equal relationships; this includes the engagement of religious leaders to prevent gender-based violence (GBV).
In March, the Prevention+ Consortium organized a learning event for practitioners across the globe working on these issues, hosted by Rutgers. Leaders from different religious communities, as well as representatives of governments and civil society organizations, met in Rotterdam, the Netherlands, to exchange approaches and best practices in working together to end gender-based violence. Learning event participants came from nine countries, including Lebanon, Uganda, Rwanda, Indonesia, Malaysia, and Sierra Leone.
Bringing the voices of women scholars to the foreground
The learning event was opened by Rozana Isa, Executive Director of Sisters of Islam, an organization based in Malaysia, working to advance the rights of Muslim women and progressive interpretations of women's equality and justice in Islam. Rozana gave an overview of the rise of conservatism and the impact on women's rights within the Islamic context. She said:
"It's not possible for us to disengage with religion… We have to be part of that conversation."
Rozana also talked about the links among the rise of religious conservatism, economics, and gender relations: "As long as women aren't central to the idea of the state and economy, they will be marginalized. The old framework is maintained, while the reality changed." She concluded on a positive note, stating that there are increasing numbers women scholars in religious communities. "The question remains, however, how do we bring their voices to the foreground?"
Establishing shared values
After the opening, the participants identified their personal values. Religious leaders shared  values such as openness, transparency, integrity, love, and peace. When discussing, they concluded that there are more values that unite us than divide us. "We share a lot of the same values, wherever we come from. Issues start when power, politics, and interpretation comes into play. We need to analyze the context, in order to be able to implement the shared values."
Exchanging effective approaches
The second day of the learning event focused on exchanges of knowledge. Each participating country shared concrete examples of how they work with religious communities to prevent gender-based violence. In Uganda, the Prevention+ program established a Faith Leaders Forum on GBV. These religious leaders, including Bishop Kiptoo Paul Masaba, now include violence prevention in their sermons. "We had over 200 religious, cultural, and government representatives come together last week to denounce female genital mutilation (FGM)," he said.
"I really appreciate bringing religious leaders on board. It's a great opportunity as our huge congregations form perfect entry points to talk about these topics."
Abaad, a Prevention+ partner in Lebanon, has worked with four prominent religious leaders – Muslim and Christian – in a public campaign addressing violence against women called "We Believe." The campaign takes into account the ability of religious leaders to influence the attitudes and behaviors of many in Lebanese society, engaging with them as allies and partners in the efforts to end gender-based violence.
Opening a dialogue
(H)echt Verbonden, a Rotterdam-based collaboration, works with religious communities to combat forced and hidden marriages. "You can make a difference," the vice-mayor of Rotterdam, Judith Bokhove told the religious leaders. "Religious communities speaking out against forced marriage is a very clear message, that should also be carried out internationally," she said. The dialogue offered a unique opportunity for participants from Rotterdam to learn from the international guests.
Reflection and moving forward
Ton Coenen, Executive Director of Rutgers, based in the Netherlands, discussed the importance of the learning exchange, and for the Netherlands to recognize the prevalence of gender inequality and violence within the country: "50 percent of Dutch women have experienced GBV. The issues we are talking about here happen all across the world. This evening's outcomes will serve as valid input for our vision and concrete strategies to strengthen our partnerships with religious leaders on important, though sensitive, issues. Here and now, and in near future, in the Netherlands and in so many other countries of the world."