"What do masculinities and gender relations have to do with social safety net programs in low- and middle- income countries?" This was the question Equimundo used to inform the recently launched report,
Applying a Masculinities Lens to the Gendered Impacts of Social Safety Nets
.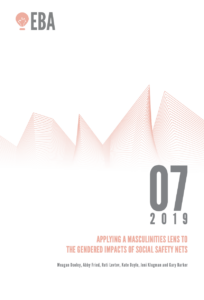 Different forms of social safety net programs, like cash transfers, in-kind food aid or public work programs are rapidly becoming cornerstones in many national poverty reduction strategies and international development programs. However, some of these programs serve to reinforce gender stereotypes, particularly that women alone are responsible for raising children and caring for the home, which can exacerbate gender inequality.
In this report, commissioned by the Expert Group for Aid Studies (EBA) in Sweden, Equimundo examines social safety net programs operating in low- and middle-income countries, assessing whether and how social safety nets include a gender analysis. Equimundo specifically explores whether these programs take into consideration men and masculinities, as well as the impact social safety nets have on household decision-making, control of household resources, division of household labor, and partner conflict and violence – key areas of gender equality and women's empowerment. 
The report incorporates key informant interviews and a literature review on social safety net programs that focus on women's economic empowerment to make the case that program outcomes can be improved by including a gender-transformative approach (one that questions, challenges, and ultimately aims to shift harmful gender norms), understanding men as complex actors who can hinder or improve program impact, and seeing men as allies for achieving women's empowerment.
The review finds that:
Social safety net programs rarely ever explicitly include an objective to promote gender equity and women's empowerment, although their ability to reduce poverty is greatly hindered by the presence and reinforcement of traditional gender norms and power dynamics;
When programs do not take an approach that seeks to transform harmful ideas about manhood, they can sometimes – despite having positive outcomes on poverty reduction – create additional burdens and barriers to women's empowerment, such as limiting women's participation in traditionally male workplaces and reinforcing the idea that women should disproportionately take on domestic roles;
There are few social safety net programs that include a focus on changing men's attitudes and practices, and solutions to critiques about programs which increase women's unpaid care work responsibilities rarely involve addressing the redistribution of responsibilities between men and women;
The assumption that men will not contribute as much to the household if they are the beneficiaries of social safety net programs, including cash transfers, is not universally affirmed, suggesting that men – as target participants in such programs – can make spending decisions that benefit families;
There is a need to critically examine and better understand men's roles, norms, and practices in relation to women in specific contexts and test new approaches that are intentional in their engagement and inclusive of men in ways that transform gender and power dynamics and contribute to strengthening the potential protective impact of such programs.
Having shown the importance of including a more nuanced understanding of masculinities and underlying power dynamics in social safety net programs, the report recommends that program designers and implementers consider the following suggestions, with careful context-based testing:
Apply a gender-relational and gender-transformative approach to early analysis, needs assessment, implementation and program evaluation, including promoting changes in male norms. 
Make gender equality an explicit, specific objective of social safety net programs.
Reduce the gendered burden of care by removing program conditionalities on women, but consider and test out conditionalities on men that ensure flexibility and incentivize positive male involvement.
Explore transfer modalities that do not add additional burdens on recipients. 
Support integrated social protection systems that include not only social safety net programs but also social insurance and labor policies, and can thus offer, for example, paid leave, unemployment insurance, and cash transfers incentivizing men's participation in care work. 
Address the masculinity-related attitudes and behaviors of program staff and policymakers in addition to program beneficiaries. 
Collect select data on men and masculinities in order to better understand differential program impacts, particularly around intra-household dynamics.
Target social safety net programming, where possible, to critical life transition points, for example adolescence and emerging adulthood, or the birth of a child. 
Design and test the impact of including gender-transformative complementary programming for men and women, using a life-cycle approach.
The review concludes that adding a gender and masculinities lens to social safety net programs ensures that programs – while alleviating poverty risks and increasing consumption levels – are simultaneously breaking down and changing unequal power structures within the household and society in order to expand opportunity, access, and equality for all. 
The full review, authored by Equimundo staff Abby Fried, Ruti Levtov, Gary Barker, and Meagan Dooley and Jeni Klugman (Georgetown Institute for Women) can be accessed
here
.