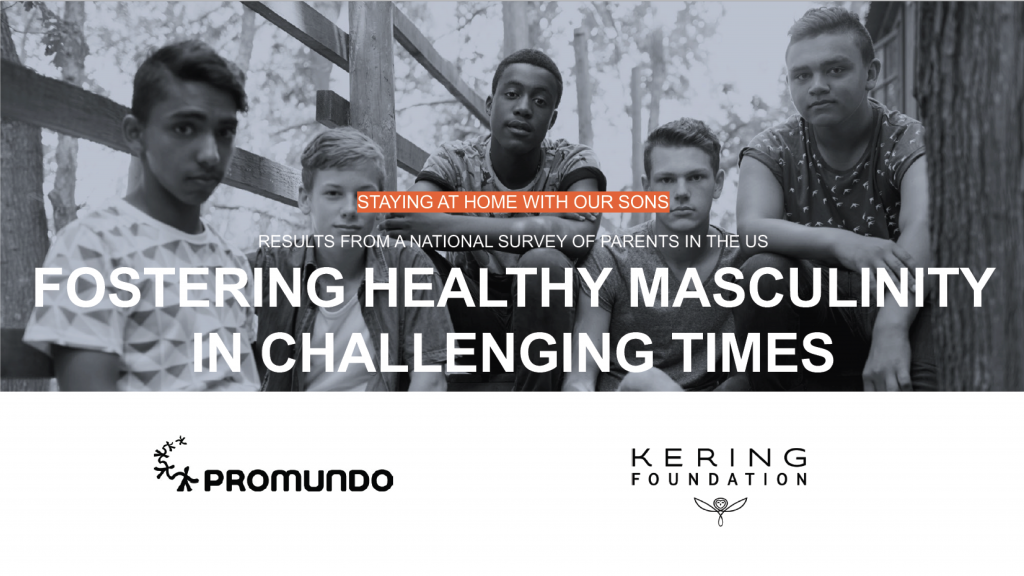 Ideas about gender – social norms for how boys, girls, and all children should be – are among the first things children learn. Frequently they keep our children from being their best, authentic selves and undermine the development of critically important human capacities. Boys around the world are often affected by restrictive ideas about manhood that cut them off from their most important relationships, repress their healthy emotions, overemphasize competition and achievement, sacrifice their health, and take risks that endanger themselves and others. Some boys and young men are also raised believing that violence – against themselves, against other men, and against women – is normal.
But a new conversation about how we raise our sons is being heard among parents, as well as among educators, coaches, and policy-makers. Around the world, individual women, feminist organizations, and male allies have been demanding an end to harassment and gender-based discrimination and men's violence against women: the good news is that parents and others who raise boys are joining this conversation. An earnest search has begun for how to nurture boys who are part of creating a just world for all, especially women and girls, and who embrace more caring, nonviolent ideas about manhood.
In the fall of 2019 and early 2020, Equimundo and the Kering Foundation commissioned PerryUndem to conduct survey research and interviews with parents and with boys themselves on the topic of masculinity and pressures to live up to certain gender and cultural norms. This research included in-depth interviews with 16 boys ages 8-16 in California and Pennsylvania and a nationally representative survey with parents of boys ages 4-14 in the US, conducted among 801 parents (mothers and fathers).
This new report – Staying at Home With our Sons: Fostering Healthy Masculinity in Challenging Times – summarizes the findings of that study, providing new insights on how parents can support healthier and more connected, resilient behavior in their sons.
Specifically, the report reveals four major findings:
When asked what they value most in their sons, parents put strength and living up to traditional ideas about masculinity at the top of the list.

While 56 percent of parents (of boys ages 4-14) report it is "very important" to them that their sons have emotional strength, they also say that boys are not comfortable sharing their full range of feelings (see #4).

Parents recognize that boys are under pressure to adhere to masculine stereotypes.

The majority of parents (of boys ages 4-14) – about 60 percent – recognize the social pressures boys face to be physically strong, show interest in sports, and "fit in." Additionally, 41 percent of parents said boys face pressures to have a girlfriend or like girls romantically (in other words, to be straight); 45 percent said boys face pressure not to cry, and 25 percent of parents report that it is "very important" for their sons to act like a boy – not "like a girl."

Parents and boys themselves say that expectations around how to behave get even more restrictive for boys as they get older.

Boys report that when they hit early adolescence, around 10-12 years old, they felt more pressure from their parents, coaches, teachers, and male peers to fit into masculine stereotypes than before. Boys are particularly hesitant to show fear and insecurity because they worry they will be ridiculed – or bullied – by male peers.

Parents see that their sons don't feel comfortable showing that they are scared or expressing love. Nearly half of them said that boys don't feel comfortable talking about love. Two-thirds of parents also said that they perceived that boys aren't comfortable making it clear when they're scared, sad, lonely or unsure of themselves.
At the same time, preferences for honesty, respect, and emotional health for their sons demonstrate that, despite the persistence of harmful ideas about masculinity, many parents are working to help their sons break free from stereotypes: 61 percent of parents voted 'being honest' into their priority list of 5 traits they think are most important for their sons to learn, while 56 percent opted for 'respecting others', and 53 percent for 'being responsible'. With many parents spending additional time with their children, due to the spread of COVID-19, there is a challenge and an opportunity to continue to support boys to break free from stereotypes and to share their feelings in constructive, safe ways.
In order to support boys in challenging harmful masculine norms and make progress toward achieving gender equality and preventing violence, the report recommends these actions for parents:
Talk openly to children about their own fears, uncertainties, and disappointments, in age-appropriate ways;

Take advantage of the time at home to talk constructively with boys;
Acknowledge the particular challenges boys feel about being vulnerable, and the courage it takes for them to be open;
Reinforce that it's okay to need help and to ask for it;
Seek help for yourself to care for your mental and physical health;
Demonstrate that it is wise to seek medical care whenever our health is adversely affected; and
Remember that you are not alone.
This report is the first in a series of new research and resources from the Global Boyhood Initiative, a project of Equimundo and the Kering Foundation. Read the full report here.